How difficult is managing a hedge fund
The truth about hedge funds
Famous names, wild speculation and gigantic profits - this is how many imagine the world of active asset managers. In reality, things are much more sober. Extreme risk is frowned upon among professionals - and the return is often low.
These are stories that shape the image of an entire industry: George Soros 'Quantum Fund bets ten billion dollars on the collapse of the pound. Carl Icahn squeezes a final return from companies in need, thus becoming one of the role models for Gordon Gekko in the film "Wall Street". Joel Greenblatt founded the hedge fund Gotham Capital in 1985, generating double-digit returns with investments in companies in special situations. Later, in the book "The Magic Stock Exchange", he demonstrates how investors can outperform the broader market if they pay attention to a few key figures when selecting stocks. Ray Dalio started his Bridgewater Associates hedge fund in the 1970s. With his all-weather portfolio, he shows how systematic asset allocation can significantly reduce the volatility in the portfolio without adversely affecting the return. James Simons is a mathematician completely unknown to the general public. He consistently relies on number freaks and their formulas, eliminating the human factor in retail. His hedge fund Medallion has averaged more than 30 percent profit per year for three decades - after fees.
The management of a hedge fund is regarded as the supreme discipline of asset management - and every successful fund manager is somehow the same as a hedge fund manager in public. High risk, superior performance - that's the cliché. Google delivers the first result on hedge funds: "Investment funds with a highly speculative investment strategy." Wikipedia: "In the financial sector, hedge funds are actively managed investment funds whose business purpose is alternative investments and which therefore take higher financial risks than traditional investment funds."
The opposite of the cliché
Wild speculation and gigantic profits? In reality, hedge funds tend to bet on the opposite. "Hedge" stands for protection. A big trade in the hedge fund scene is primarily defined by an attractive risk / reward ratio, not by daring. Risk the entire portfolio for a 100 percent return with high leverage if the probability of loss is 50 percent? Rather something for private investors with a pronounced gambler nature.
Eckhard Sauren is a pioneer in the umbrella fund industry in Germany. At the beginning of the nineties he founded his company in Cologne, which manages funds that in turn invest in other funds. Sauren knows many asset managers personally and also has a fund that combines hedge funds with different strategies. Regarding the biggest misconception about hedge funds, he says: "Many people just understand something wrong by it, namely: more risk. Most strategies are deliberately designed to have fewer risks. "
Jack Schwager stated eight years ago in "Magician of the Markets: Next Generation", an interview book with hedge fund managers, "The typical pattern is that hedge funds, taken as a group, have a slightly higher return but far less volatility and have intermittent capital losses. It is ironic that the hedge funds, which are still considered highly speculative, are in fact much more conservative in terms of all risk metrics than traditional investments such as mutual funds. "
Some risks are consciously taken by hedge funds, but undesirable, possibly hardly calculable market risks are excluded by hedging (see "Strategies of the Pros" at the end of the article).
Two clichés actually apply: Successful hedge fund managers earn relatively generously and are hardly subject to (external) rules in the implementation of their trading goals. Whether stocks, bonds, currencies or commodities, long or short, large or small leverage: Everything that is legal is initially allowed - as long as it fits the strategy of the fund. If in doubt, the portfolios can also be very concentrated, with a few but excellent ideas.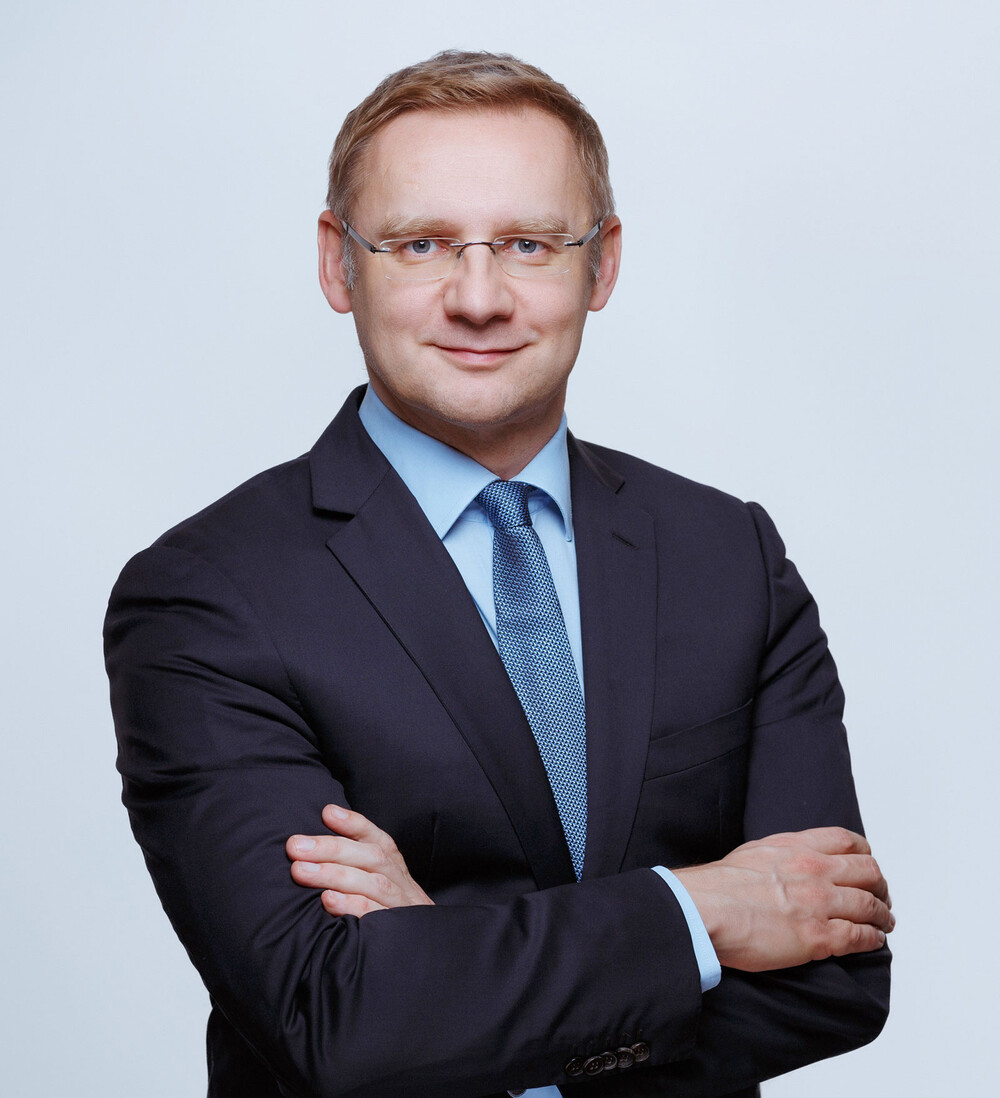 Eckhard Sauren, fund of funds manager
"Extremely difficult conditions"
It all sounds good, but there is a problem: The average return on hedge funds over the past ten years has been rather weak, in many cases even negative. An investment in a stock index or a normal mutual fund would almost always have yielded more. So hedge funds may be the supreme discipline. At least in the past decade, however, the farmer has made the game. Eckhard Sauren explained why this is so to the SHAREHOLDER in a telephone conversation.
THE SHAREHOLDER: Mr. Sauren, hedge funds are considered the premier class in wealth management. Right?
Eckhard Sauren: This is a certain kind of premier class because you really want to generate income independently of the market - and that is particularly difficult, especially in recent years.
What was that?
We have had extremely difficult conditions for hedge funds for ten years. The other competitors, on the other hand, had very easy years because the stock and bond markets rose. In other words, all traditional equity, bond and mixed funds had a tailwind from the market. Hedge funds, on the other hand, are actually trying to make money independently of the market. Inevitably, they didn't look good compared to any of their competitors. In addition, the market was flushed upwards through liquidity. Almost everything has increased, there was not much differentiation. It was very easy to raise capital. Weaker companies also got through in this environment. It was difficult for hedge funds to enforce their capabilities. On the short side, for example, they couldn't actually earn anything for ten years.
Whereby one has probably been able to sell short German banks and the automotive industry for a number of years, while at the same time being long on the overall market ...
But that would be real bets - cyclicality is bad, technology is good - not market-independent thoughts. It would be independent of the market to say: I believe that BMW performs better than Daimler or VW.
Even Daimler against Tesla would be difficult because the companies cannot be compared directly?
Exactly, Tesla is more of a technology and the only automotive stock that relies entirely on electric. This is not a pair trade that one makes. Tesla is more of an example of where one or the other fundamentally oriented fund manager went short at some point and then paid on it because the value was driven higher and higher.
If hedge funds actually stand for stability and low risk, why do many have to close?
I don't think that there are many more bankruptcies than with equity funds, which are often secretly, quietly and quietly closed or merged away. If, on the other hand, a hedge fund is wound up, it is often worth reporting. In most cases it is the case that the performance is no longer convincing due to the difficult conditions. The market is pretty tough. Then there are outflows and at some point it no longer makes sense if, for example, a hedge fund no longer has 50 million available. So it is handled neatly. There are very few hedge funds that really lose their capital completely.
In Germany at least, hedge funds are still not that popular, are they?
People don't feel like it, the topic doesn't have a good reputation. Try teaching an insurance company to invest $ 100 million in hedge funds. You will learn that from the head of capital investments. But when he is on the board of directors or supervisory board, it says: "For God's sake, we won't do that to ourselves now, because if that goes wrong ..." Historically, the German market is traditionally geared towards stocks and bonds - and never has that Made the leap into modern multi-asset strategies.
High fees, low returns compared to the stock market - do hedge funds make sense at all?
From our point of view, at the end of the day it is a significant asset class to have in your portfolio for diversification. With 20, 30 percent in the portfolio, you would still have done well, even if the classic part went better than the hedge fund part, of course.
Capital flight in the corona crisis
During the pandemic, of all times, hedge funds fell significantly in favor of investors: According to the eVestment Internet platform, investors withdrew $ 24 billion in March alone. Capital under management was less than three trillion - its lowest in six years. The industry saw another outflow in June: $ 16.87 billion. Analyst Peter Laurelli attributes this to the impatience of investors, who are growing in view of the below-average performance of some funds: "If you do your job well, you will be rewarded, if you do not do it as well as expected, it has negative consequences." Good job As Eckhard Sauren explained in an interview, it has not been easy for hedge funds to do in recent years. In the first half of 2020, even the mathematicians working with James Simons made an exceptional loss.
Sauren relies on hand-picked experts for its funds (motto: "We don't invest in funds, we invest in fund managers"). With this approach he was at least able to outperform the UBS hedge fund index significantly (see chart). However, the fund of funds construction costs twice the fees: In addition to the funds themselves, Saurens also collects the company. And while many hedge funds have risen in the past few months, the recovery has bypassed Sauren selection.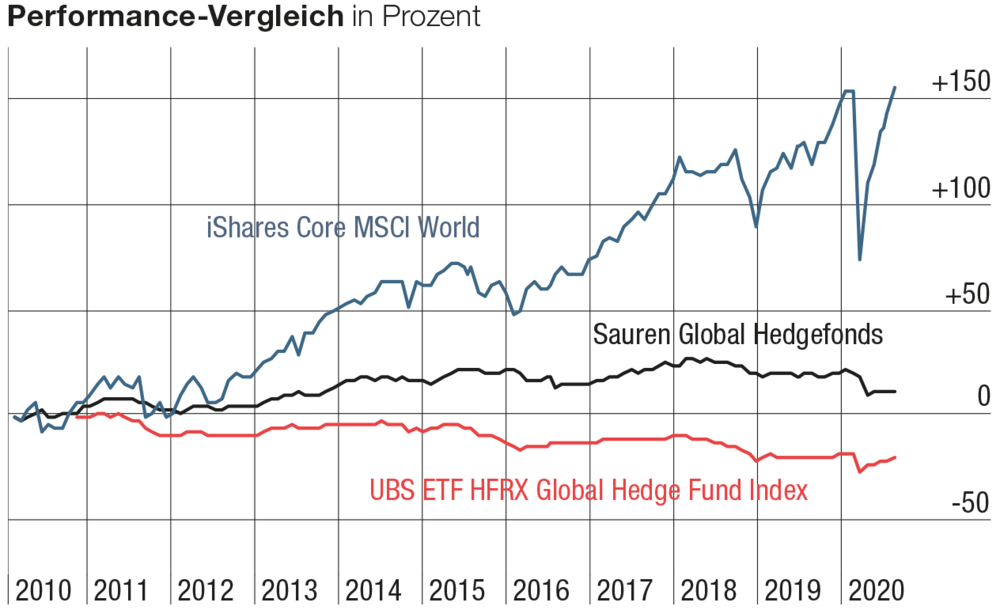 Smart managers, poor returns: the broadly diversified equity ETF clearly depends on Sauren's hedge fund selection, which, in contrast to UBS's Global Hedge Fund Index, is at least around 13 percent higher.
Closed society
Hedge funds are usually reserved for institutional investors. A direct investment is not possible in Germany without going through a fund of funds. The financial supervisory authority BaFin writes: "In contrast to hedge funds of funds, single hedge funds may only be offered as special funds, so distribution is only permitted to professional and semi-professional investors."
The minimum investment amounts often start in the six or even seven-digit range. In addition, the capacity limits of particularly successful funds are quickly reached. New funds with managers who have already earned an excellent reputation with traditional asset managers don't have to clean the door. The capital flows into the fund almost by itself. It will be closed long before a private investor could invest.
James Simons' high-flyer investment company is even more exclusive: since 1993, only employees have been involved in its success. Some of them have become billionaires in the past few years.
After all: Carl Icahn's holding company Icahn Enterprises (NASDAQ: Icahn) is traded on the stock exchange. Compared to the S&P 500, however, the development is disappointing: Including dividends, Icahn has performed two-thirds weaker in the past five years.
No high flyers
The bottom line is that many hedge funds are not high-flyers. Exceptions are rare and difficult to access for private investors. A blanket, broadly diversified investment in the industry is not necessary in view of the performance of the past ten years. In addition to stocks, normal investors should also be well served with a little gold, real estate and cash in their portfolios.
An insight into the experiences and approaches of the old masters can also be exciting and instructive for classic stock buyers (see book tips).
Strategies of professionals
Even hedge fund managers are unfamiliar with the one system that has always worked for decades. Rather, they use different strategies depending on their preference and adapt them to the circumstances. A selection:
Activist approach
The hedge fund buys into a company, for example to put pressure on the management to take certain measures to resolve an existing undervaluation of the company in the market.
Convertible arbitrage
In arbitrage trades, price anomalies are exploited with virtually no risk. Sometimes it happens, for example, that a convertible bond is undervalued compared to the stock. Whoever exchanges the bond for the share and then sells it makes the profit. This can be worthwhile even with minimal differences, if the fees are low and the volume traded is large enough.
Global macro strategy
Here the managers try to predict macroeconomic trends. Soros 'bet against the pound sterling falls into this category.
Market neutral trade
Here, for example, the share of SAP is bought and the DAX is sold in order to bet that the share will perform better than the index.
Pair trading
A classic long-short approach (see interview).
Quantitative strategy
Statistics are evaluated in order to develop a trading system from them. The trader then uses, for example, seasonal patterns in raw material prices.
This article was published in DER AKTIONÄR No. 36/2020, which you can download here as a complete PDF.
Book tip: Narrative economy
"Tech stocks always go up!" "Real estate prices never go down!" Is that really true? True or not, such narratives, or, to put it more simply, stories, have a massive influence on people's behavior and thus on the economy. How do narratives come about? How do they go viral, how do they gain influence, when do they lose it again? What are the effects? And, last, but not least: How can they be used to better understand and predict economic relationships and developments? Nobel laureate in economics, Robert J. Shiller, examines these questions in what is perhaps his most important book.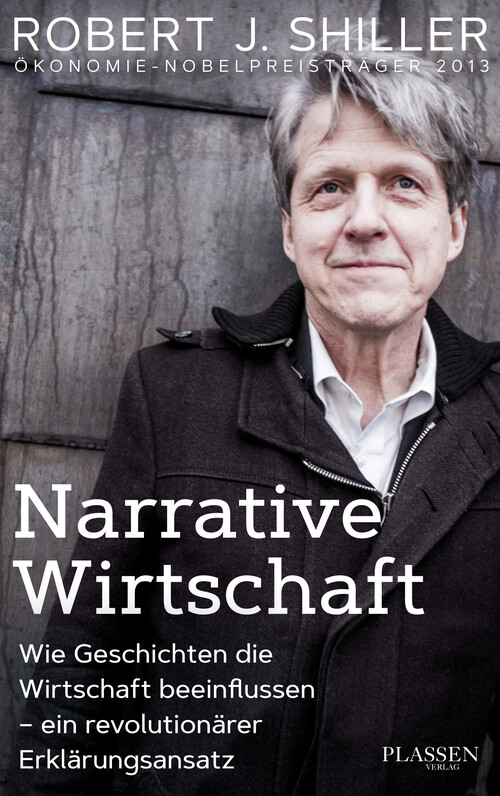 Authors: Shiller, Robert J.
Number of pages: 480
Release date: 16.03.2020
Format: Hardcover
ISBN: 978-3-86470-666-0