What does maintenance-free life entail
Regina High Performance Endurance: Maintenance-free chain for everyone
Just a few days ago, BMW announced that some of its models could be equipped with new, maintenance-free chains for the final drive. This chain was developed together with the Italian chain manufacturer Regina. While the original equipment of the BMW chain is initially reserved exclusively for BMW models, Regina is bringing its own chain variant to the aftermarket for everyone. The new Regina High Performance Endurance (HPE) will be available from January 2021.
Extremely hard coating of rollers and bushings
A DLC (Diamond Like Carbon) coating makes the HPE Z-Ring chain maintenance-free. The hydrogen-free, amorphous, tetrahedral carbon coating (ta-C) is applied to the surface of rollers and bushings in the HPE chain. This ta-C coating reduces the power loss and increases the efficiency in the wheel drive due to the low friction resulting from the high hardness of the coated surfaces. In a secondary aspect, the HPE chain is even more environmentally friendly than conventional chains. By eliminating chain cleaning and oil splashes during operation, environmental impacts are minimized. Annoying rims cleaning is also no longer necessary.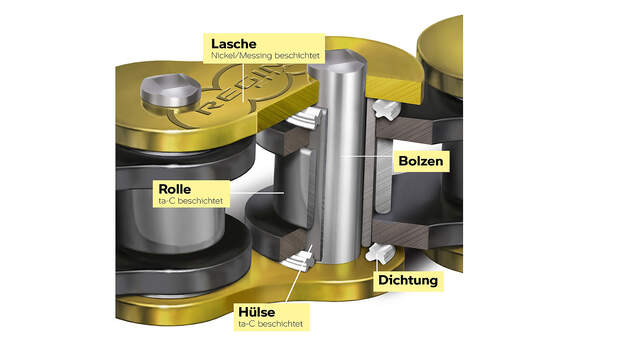 Maintenance-free means that regular relubrication and chain tensioning should be dispensed with. However, maintenance-free does not mean that the HPE chain has eternal life. The mileage should be at the level of a regularly serviced chain. Special sprockets and chainrings should not be required for the use of the new HPE chain.
Regina has not yet announced which pitches and lengths will be available from January. No information has yet been given on prices either.