What if the cashmere question never existed?
"The global community must resolve the Kashmir issue"
Deutsche Welle: The regional triangle Pakistan - India - Afghanistan has been characterized by tensions for a long time. But recently there have been visits from the Pakistani army chief to Kabul, and the Indian State Secretary in the Ministry of Foreign Affairs has just held talks with his counterpart in Islamabad. Do we see the beginning of a new era of trusting cooperation here?
Syed Hasan Javed: The talks between the chief diplomats in both countries are taking place after a long break (of two years). In my opinion, such a meeting was long overdue and valuable time was wasted. Discussions should be held on all questions that arise, as this is the only way to ensure peace and security in the region. Pakistan and India should look ahead. We wish that no country in South Asia strives for hegemony, because such hegemonic efforts create problems.
After both countries signed the Lahore Declaration in 1999 (in which both nuclear powers committed themselves to confidence-building measures), General Pervez Musharraf seized power in a coup. Does the Pakistani Army really want peace with India now?
All actors in Pakistan, not just the army, but the government, the political leaders, the parties and the whole nation are clearly in favor of good relations with India. The Pakistani army also wants such relations because South Asia, and Pakistan in particular, would benefit from a lasting regional peace. All the pillars of power in Pakistan, without exception, agree on this.
Can India and Pakistan even achieve a general improvement in their relationship without first resolving the Kashmir issue?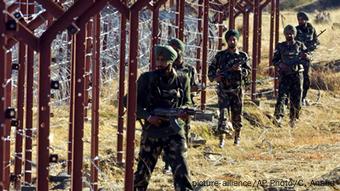 Javed: "Without a solution to the cashmere question, all efforts will be incomplete"
The Jammu and Kashmir issue is an old conflict. Several UN resolutions call on India, Pakistan and the international community to solve this problem together. We have tried several times in the past (to improve relations with India), excluding the question of Jammu and Kashmir. But that did not work, also because it is not just a conflict between India and Pakistan. The people of Kashmir are also involved in this conflict. It is now a matter of the international community fulfilling the promises it made to the people of Kashmir. Without a solution to this conflict, any attempt (for rapprochement) between Islamabad and New Delhi must remain incomplete.
Do you see the rise of Hindu nationalism in India and its attitude towards the minorities in India as an obstacle to better relations between India and Pakistan?
First of all, the BJP's current Hindu nationalist government in India is an internal matter for that country. But things are not going in the right direction there. The Indian state was defined as secular at its core 67 years ago. Today secularism is on the decline everywhere there. Little is said about this internationally. The world may be more interested in India's size or its economic performance. But the Hindu nationalist agenda is primarily detrimental to India, and is of secondary importance to Pakistan. The Hindu nationalists are a threat to India. I would like to add: the Hindu nationalists' mantra that Pakistan is a failed state should be forgotten.
A question about Pakistani domestic politics: The controversial blasphemy law is heavily criticized at home and abroad. What are the prospects that this law will be abolished or amended in order to put an end to its abuse, which is particularly directed against minorities?
The blasphemy issue is a critical and important issue in Pakistan. The law was passed in parliament with a two-thirds majority. If you look closely at the cases in which this law has been invoked, you will find that there are many Muslims among the accused. The blasphemy trials are not conducted exclusively and in all cases against Christians or other minorities. We do our best to prevent abuse of this law. We also examine the motives for cases of abuse of the law, for example to gain personal gain or to resolve personal feuds.