What is a childhood treasure
A treasure from childhood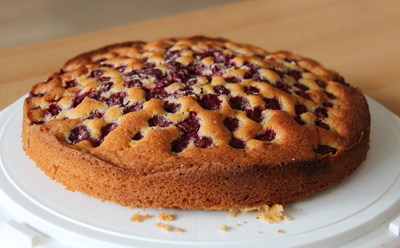 Sponge cakes with sunken cherries in them - that was the epitome of cake for me as a little girl, because it was usually there when we were baking. I haven't done it in a very, very long time, but I dared to do it again for a friend's wedding party. It's such a thing with recipes from childhood. You remember them so delicious that somewhere in the back of your mind you have a certain reluctance to make them yourself and not find them so delicious anymore. This time, however, it was unfounded, because the dough was just as delicious when snacking as it was back then 😉
The cake is made very quickly and easily. As ingredients you need:
200 g butter
175 grams of sugar
3 eggs
200 g of flour
2 teaspoons of baking soda
1 glass of cherries
some vanilla
First the butter is diced and whipped with the sugar until frothy, then mixed with the eggs and a dash of vanilla from the vanilla grinder. Then the mixture is mixed with flour and baking powder to form a smooth dough. This is filled into a greased springform pan and topped with the drained cherries from the glass. At 180 ° C it takes about 40 minutes in the oven.
Instead of cherries, you can also use canned peaches or fresh currants. With their sour taste, they also go great with the cake.