Who is the best orthodontist in Bhopal
India
1. In which country did you speak? Name and contact details of the organization?
Country: India Organization: Padhar Hospital, Dist. Betul, Madhya Pradesh 460005 India
Contact person: Deepa Choudhrie, [email protected]
2. How long did your preparations take? What did you have to organize beforehand?
Actually there was hardly anything to organize. I contacted the hospital for the first time almost eight months before my clinical traineeship and was accepted within a few hours. I already had the vaccinations required for India (Hep A, typhus, rabies, etc.) from previous trips. I actually struggled with the visa the most.
3. Do I need a visa? If so, how expensive?
There is an e-visa for India that can be applied for online and costs around € 40. However, my visa application was rejected the first time I tried, so I tried again with the same data, which luckily worked (however, I paid a total of 80 € for the visa). From this I learned: always take care of the visa before booking the flight! Unfortunately, problems with the e-Visa are not uncommon.
4. Problems with donations and customs / the airline? Tips?
Kuwait Airlines was a very reliable and recommendable airline on the outbound flight (I only paid € 440 for the flight from Munich to Mumbai and back). From Mumbai to Nagpur we went with IndiGo (for just under 40 €), which actually only allow 15kg of luggage, but if you ask nicely, a few more kilos shouldn't be a problem. Unfortunately, my return flight with Kuwait Airways was canceled due to the corona virus, so I had to book a new flight with Qatar Airways relatively spontaneously (there is a direct connection from Nagpur to Doha, so I only had to change once on the return flight).
5. Which language (s) are a must? Were there translators on site?
English should definitely sit! The patients unfortunately speak little or no English, a few words in Hindi are very practical, but you can learn that quickly on site (at least things like "open your mouth" and "pain"). But the doctors always translated or summarized for us.
6. What were your tasks in the project? Which treatment stations did you go through?
There was little dentistry to do other than extractions, a few PZRs, and PA treatments. I was mainly in the MKG, where I was allowed to assist in operations, sewing, and was there on rounds and in the consultation hours.
7. How much money did you spend on which things (brief overview of costs)?
Life in India is very cheap. The stay in the guest house costs 1000 rupees per night (approx. € 12) per night in the dormitory (which I was alone in) with private bathroom and three meals (and of course chai!), That was a total of 500 for the almost six weeks €. I also spent around € 150 on excursions, snacks, etc.
8. General tips for future applicants? What would you have known better before your trip?
If you are not particularly interested in the MKG, you will enjoy your internship more elsewhere, but if you do, I can warmly recommend the Padhar Hospital!
Clinical report from January 25, 2016 in India

After the 8th semester, I had the opportunity to do an internship in India with my fellow student Maximilian Vollmer. Since a fellow student had already been in India two semesters above us, we were able to quickly establish contact with the Padhar Hospital in the state of Madhya Pradesh, India, and apply for our grant from the ZAD with the confirmation sent by the hospital.
The Padhar Hospital is a small missionary hospital, which is run by Christian Indian doctors and from Germany by the association "Friends of Padhar e.V." and Prof. Dr. Thomas Kreusch from Hamburg is supported. It is quite centrally located in India in the state of Madhya Pradesh between the larger cities of Bhopal and Nagpur.

The hospital was interesting for me in that it has a small dental department with 2 treatment units and is especially known for oral and maxillofacial surgery (maxillofacial surgery). Once a year there is also a cleft lip and palate "camp" at which Prof. Dr. Kreutsch and his team operated on LKG columns for a week free of charge.
After we had booked our flight to India, we started to contact various dental companies and dental depots in Germany in order to be able to take material donations with us to India. Fortunately, a lot came together after a while, so that we had to worry about putting everything in our luggage.
It started right after the end of the semester.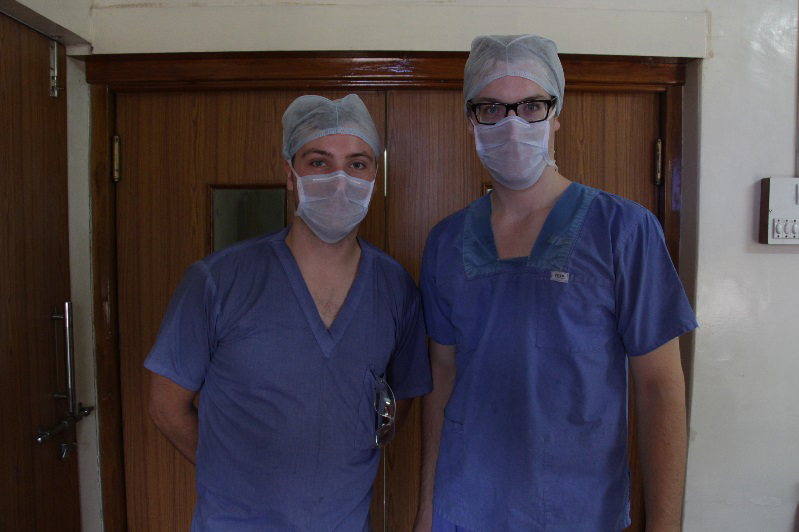 After our arrival in Mumbai and a first night in the warm, humid climate of India during the monsoon season, we went on Tuesday by domestic flight to Nagpur, where a driver from the hospital was waiting for us. It quickly became clear that the announced travel time of 2 hours would not be adhered to, as we had to do all sorts of errands for the hospital on the way. So we had the opportunity to drink a chai at one point or another, the typical Indian tea with milk and plenty of sugar, which we slept through during the early morning taxi ride through Mumbai to the airport.

So we didn't get to Padhar until the afternoon. Padhar is a small village with a few hundred inhabitants, the majority of whom are doctors, nurses or other hospital employees. The patients, on the other hand, come from far away.

For the time we stayed at Padhar Hospital in the hospital's guesthouse. When we arrived there, we met two medical students, Ian from Australia and Tom from England, who had already been in Padhar for a few weeks. In addition, four Indian medical students live in the guesthouse. Two women Dolawhri and Rekebai cook every day for everyone who lives in the guesthouse, so that we could enjoy delicious Indian food three times a day.

So on Wednesday morning it really started for us. After a short detour to the Dental Department, where there wasn't much going on in the morning, we were sent on the rounds. Only then did I realize how big the hospital actually is. From the surgical ward it went to the children's ward, then to the intensive care unit and to a special ward where only the children lie who have cleft lip and palate (LKG clefts).
Station means a large hall with about 20 beds and a lot of fans on the ceiling to make the heat bearable. The visit was carried out by Dr. Rajiv Choudhrie, plastic surgeon and something like the chief physician, his brother Dr. Ashish Choudhrie (urologist), and Dr. Anoush performed. During the first visit it became clear to us that a lot of tumors in the mouth and head area are operated on in Padhar and that many families with their children come from far away to have LKG clefts operated on. Dr. Ashish explained to us that many people in India chew tobacco and that tumors in the mouth area often occur as a result.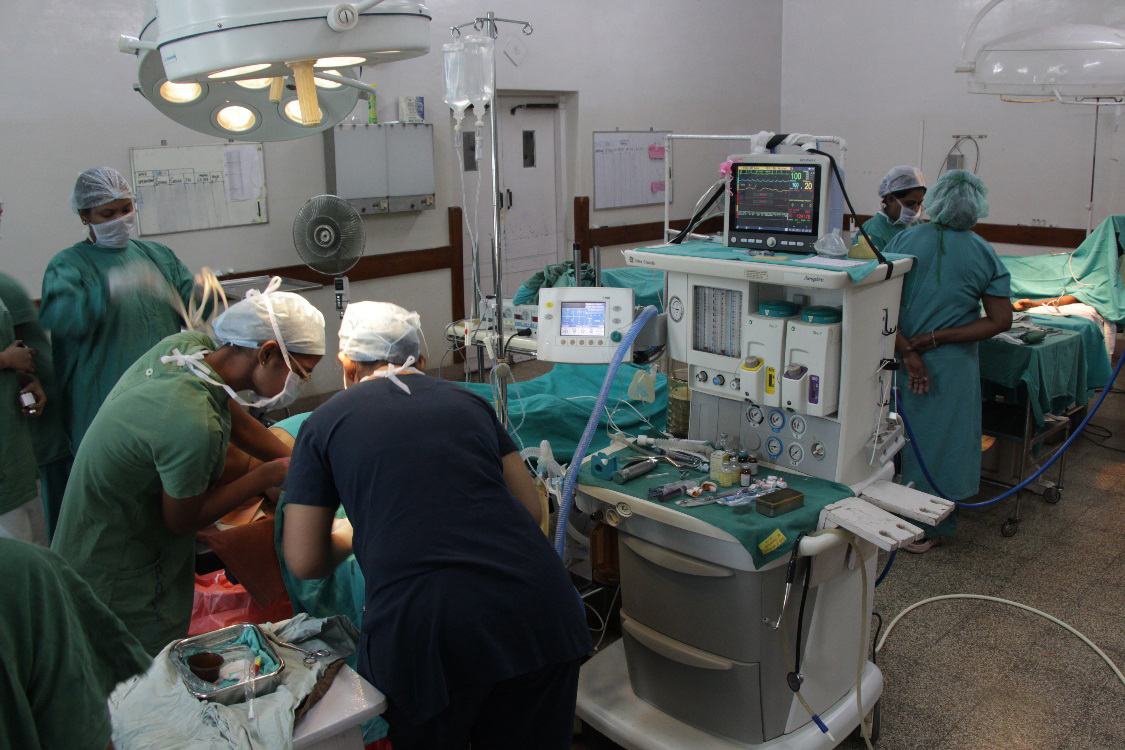 After the rounds, Ashish instructed us to follow him and suddenly we were standing in the operating room changing room and we started to attend the first LKG column operation. Right from the start, we had the opportunity to assist directly at the table and thus gain good insights into maxillofacial surgery. After the first operation, it went straight on. A large submental tumor was removed and covered with a pectoralis flap. A neck dissection was also carried out. Here, Dr. Rajiv just took a look at the anatomy of the neck with the vessels and nerves running there, whereby we stumbled a little and resolved to read it up again in the evening. The next few days went on in a similar way, so that we were actually in the operating room every day and were allowed to sew on the second day. When we weren't in the operating room, we spent the time at the dentist, Dr. Anshul. There wasn't really much to do here, though. There are 4-6 patients a day. We were then actually always allowed to treat these few patients as long as we were on site. Most of the time, however, people only come here when the teeth are really badly damaged. That's why we were allowed to pull 14 teeth in the first 3 days alone. Fillings are rarely made, so we only made one filling in the whole time. Here, however, we had to convince the dentist that, in our opinion, a composite filling would be better than glass ionomer cement or even ZOP.

Overall, we noticed that Dr. Anshul has a lot of theoretical knowledge from university. Despite better knowledge or a lack of material, however, certain steps, for example curettage after an extraction or sealer for the root canal fillings, are often omitted.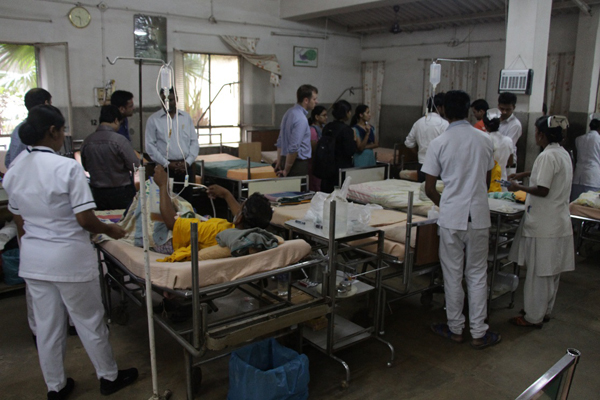 After this interesting first week we spontaneously joined Ian and Tom who had planned a trip to nearby Pachmarhi. As the crow flies, the small town, which is the starting point for excursions to the surrounding national park, is approx. 150km away. With the Indian road conditions and the many serpentines up the mountain, this resulted in a 6.5-hour drive with all sorts of daring overtaking maneuvers by our driver and some near-crashes with cows running around on the road, which are so common in Indian streets. So we were able to visit the national park with waterfalls and all kinds of Shiva temples, even if we didn't see any of the 42 tigers or leopards there, to Maxi's disappointment.
In the second week there were significantly fewer patients in the hospital, as a heavy monsoon hung over the region all the time and many streets were therefore flooded or underwent. Especially the people who live further away and come to the clinic on foot understandably did not come in such weather. That is why it happened during the week that we were often only in the hospital in the morning, taking part in the rounds and the operations, but then going home in the early afternoon.

The first time I also saw something else a tumor or LKG cleft operation in the head area, as some injured people from motorcycle accidents had to be treated due to the heavy rain. Since it is not customary to wear a motorcycle helmet in India, one can imagine that the face is relatively often affected in accidents. Nevertheless, I was surprised how light it usually turned out to be.
We also met another doctor, Dr.Manoj, the actual maxillofacial surgeon and his wife Dr. Jini, the second dentist know. This week there were again two so-called command operations, i.e. large tumor resections in the jaw area, in which half of the mandible or maxilla with orbital floor was partially removed and we were again naturally allowed to sew the whole thing back together at the end. So we got to know other flap techniques.
I found it very shocking that in such tumor patients, even with large bone loss, only soft tissue was actually covered, so that, for example, the patient then saw strong double images with the orbital floor removed. Dr. Rajiv explained to us that the tumors are often so advanced that they are first resected and the bony and expensive reconstruction would be carried out after a year at the earliest, provided the patient was still alive ... dry "not very often" commented.
Due to the heavy rain, there were also power outages. However, the hospital has emergency power generators, which always started reliably and could therefore continue to work in the operating room after a short interruption. Unfortunately, the air conditioning was then no longer used, so it got quite hot in a short time.
In the evenings after work there is unfortunately not too much to do in a small village like Padhar. So we either played cards in the guesthouse or went to play badminton in the school's gym. There is also a small dam outside of Padhar with a reservoir for watering the fields in summer. The way there leads through the fields. On the way to the dam we met Juko. She's something like Dr. Rajiv and therefore speaks English very well. She is also one of the warmest people I have met here. She lives with her family outside of Padhar in a small mud house. Since we always passed there on the way to the dam, she kept inviting us to her house, we had to sign her guestbook and she wouldn't let us go until everyone had drunk at least two cups of her delicious tea.
The following week, unfortunately, not as many maxillofacial operations were performed in the operating room as before, so that we got a glimpse into other areas and, for example, were allowed to watch a caesarean section and saw several thyroidectomies. Only towards the end of the week there were more operations in the head and neck area where Manoj kept asking us about the anatomy there.

In the following week, I was also able to operate on a reconstruction for the first time. Personally, I found that very nice because it was the first time I saw that a patient had really recovered very well from a major tumor operation. The young woman (22 years old) had undergone an operation 5 years earlier and all of the left facial muscles in the nerves had been removed. Now the facial nerve had to be exposed in the temporal bone and then connected to the nerve of a free flap. I've never seen an operation like this myself in Germany, so I found it very interesting. It has also been shown to me that the hospital is really well equipped thanks to donations and, for example, also has an operating microscope for microsurgical interventions.



For the last week in Padhar we had planned a camp at the local school. Since our donations included around 70 toothbrushes, we wanted to learn with the students why you brush your teeth, how to do it correctly and what happens if you just don't brush your teeth. So we went from class to class and first explained something about the structure of teeth, about tooth decay and which foods are good or bad for the teeth. We also wanted to know how and how often the children have brushed their teeth so far. Then we all practiced together how to properly brush our teeth. The younger students in particular clearly had fun with it, while the older ones were a bit too cool for it and didn't want to participate that well.
It was very funny when a couple of students from another class came in one of the classes and distributed sweets. We couldn't say no, but then we were able to talk directly about the fact that we would definitely have to brush our teeth later :).

I can only recommend an internship in the clinical semesters. Certainly you have to adjust to completely different conditions and bear in mind that many of the techniques "learned" in other countries can certainly not be used in Germany. However, the intensive insight into maxillofacial surgery and the repetition of anatomy brought us a lot for the OP2 course that follows in the next semester. If you are not really interested in surgery, I would look for a different traineeship than Padhar, for those interested in surgery Padhar is great because you can see a wide range of maxillofacial surgery.


Bastian Rox, Albert Ludwig University of Freiburg
If you have any questions, please send an email to [email protected]