Why did Mike Tyson go to jail?
Mike Tyson: "Everyone Fights For A Reason"
"I was the youngest heavyweight champion in boxing history. I was a Titan, the reincarnation of Alexander the Great," writes Mike Tyson in his autobiography "Undisputed Truth". "My style was boisterous, my defenses impregnable and I was angry. It's amazing how low self-esteem and a huge ego can induce megalomania."
Mike Tyson could have been a living legend: at the age of 20 he was already a champion. Thanks to its unmistakable power and the speed of a lightweight, combined with high mobility and flawless coverage - this is how "Iron Mike" conquered the heavyweight throne in 1986. He becomes WBC champion, a year later he also holds the titles of the WBA and IBF associations. This makes Tyson the first three-time heavyweight world champion. Until his 37th professional fight he remains undefeated, the first 19 he wins all by knockout. It was only in his 38th fight in February 1990 that he was knocked out against James "Buster" Douglas himself for the first time in his career.
Cus D'Amato: explorer, mentor, foster father
Michael Gerard Tyson was born on June 30, 1966 in Brooklyn into a difficult family situation. He doesn't know his father, who left the family early. When he was 16, his single drug addict mother died. Tyson's boxing trainer and mentor at the time, Cus D'Amato, who has a loving and close bond with his protégé, takes the young boxer into his care and becomes his legal guardian. Even as a teenager, Tyson often got into trouble with the police and is well on his way to becoming a criminal.
D'Amato sees in Tyson, who is actually too small for the heavyweight division, the talent and obsession that will later make him the world champion. "I have a reason to live - for Mike. I'll watch him be a success and I won't leave before that happens," D'Amato explains in old videos, but he dies at the age of 77 - a good year before Tyson's first world championship fight.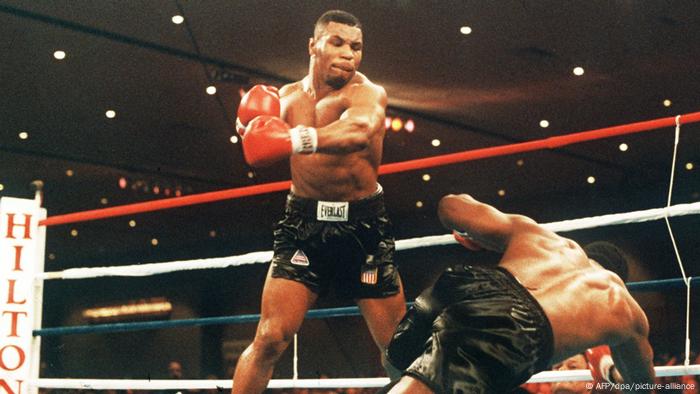 The punch for the first world title: Mike Tyson sends Trevor Berbick on the boards and is world champion
"Cus D'Amato, my mentor, friend and general. Because of you, my life has reached heights I could never have imagined. Without you I would not know where I would be today. My gratitude to you is immeasurable." Tyson later wrote in his autobiography.
Great boxer with missteps
In the ring, Mike Tyson stands for pure strength, wild determination and impeccable technique - in life, on the other hand, he makes a lot of missteps. Violence and brutality, excessive alcohol and drugs, convictions, imprisonment, a bitten ear, a doping scandal and debt - that too is Tyson. He was 25 years old when he was tried and convicted in March 1992 of the rape of a Miss Black America candidate: six years in prison, three of which were suspended.
After his release, Tyson successfully returns to the boxing ring. In March 1996 he is after a victory by technical knockout. Against Frank Bruno WBC world champion. In September of the same year he defeated Bruce Seldon and now holds the WBA title again. After losing to Evander Holyfield in November 1996, he lost his WBA belt again, but eight months later in the rematch he had the chance to regain it.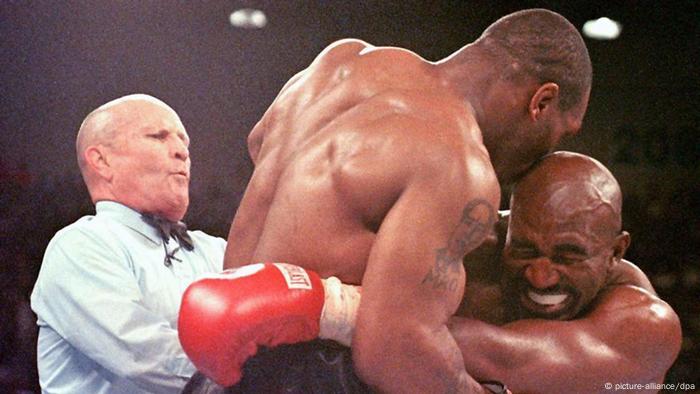 Evander Holyfield (r.) In pain: Mike Tyson bites off the upper part of his right auricle
But the rematch against Holyfield turns into a disaster: Tyson bites Holyfield in the ear in the third round: the most legendary bite in sports history. Not only does he lose his chance for the world title, he is disqualified, banned for 15 months, his boxing license is revoked and he has to pay a fine of three million US dollars.
After the Holyfield debacle: prison, drugs, defeats
Tyson's reputation has been damaged and his life and boxing career go up and down in the years to come. After his suspension has expired and he has a boxing license again, he wins against Francois Botha, but is sentenced again immediately afterwards and has to be jailed for one year for assault. He serves three and a half months and is then released on parole.
After that, Tyson - now 33 years old - is only nine times in the ring. His biggest fight during this time he lost in June 2002 against three-time world champion Lennox Lewis. Shaken by financial difficulties, he ends up in bankruptcy. In 2004 Tyson dared the desperate attempt at a comeback, but lost to the relatively unknown Danny Williams through knockout. In June 2005 - after losing to Kevin McBride - Tyson announced his retirement from professional sport.
Long way to comeback
Tyson went on to act in films, published a book and made his own television show. . But he has also admitted his addiction to alcohol, a withdrawal behind him, is now a vegan diet and has been training again this year. Today Tyson looks rehabilitated: "My ego allows me to be kind to others, because being kind to others allows me to be kind to myself, and that's my ego's goal without the fight," Tyson tweeted in April 2020.
At that time he also announced that he would make his comeback against multiple world champion Roy Jones Jr. The fight was supposed to take place in mid-September, but was then postponed to the end of November due to the corona pandemic. Tyson goes into the fight confident and confident of victory and announces the "berserk mode". "You get knocked down 100 times, you get up 100 times, you learn 100 lessons," he tweeted. And: "I may lose sometimes in life, but I won't lose that day in the ring."
Tyson is 54 years old. He has been married to his current wife, Lakiha Spicer, for eleven years. Their daughter Exodus was tragically killed in an accident in 2009. "Everyone fights for a reason," Mike Tyson recently announced on social media. Will he dedicate the next fight to his deceased daughter?
The greatest boxers of all time

Muhammad Ali

He is loud, arrogant, mocks his opponents and calls himself the "greatest" - but in the boxing ring he always lets actions follow and defeats his opponents. Ali is three times heavyweight world champion and is considered the best boxer of all time. His duels with George Foreman (Rumble in the jungle, 1974) and Joe Frazier ("Thrilla in Manila", 1975) are boxing classics.

The greatest boxers of all time

Joe Frazier

Joe Frazier (left) is Ali's big rival. The two had three close fights between 1970 and 1975. Frazier was world heavyweight champion from 1969 until his loss to George Foreman in 1973. After he failed to regain the world title in "Thrilla in Manila" against Ali and a revenge against Foreman failed, Frazier ended his boxing career in 1977.

The greatest boxers of all time

George Foreman

George Foreman beats reigning title holder Joe Frazier K.o. in 1973. and becomes world champion. A year later he lost the world championship belt in "Rumble in the jungle" to Muhammad Ali. In 1987 - after a ten-year break from competition - he started a comeback and finally became the oldest heavyweight world champion in 1994 at the age of 45. In 1997 the father of eleven finally ended his boxing career.

The greatest boxers of all time

Mike Tyson

"Iron Mike" literally rolled over his opponents and stormed from victory to victory at the beginning of his professional career. In 1986, at the age of 20, he became the youngest heavyweight world champion. But the successes in the ring are followed by drug excesses, a prison sentence for rape and other scandals. After a comeback in 1996, Tyson becomes world champion again. He wins 50 of 58 professional fights, 44 of them by knockout.

The greatest boxers of all time

Max Schmeling

Schmeling, who was heavyweight world champion from 1930 to 1932, remained one of the most popular athletes in Germany until his death at the age of 99 in 2005. His fights against Joe Louis, against whom he wins once and loses once, are particularly remembered. To this day, German boxing is waiting for a successor to Schmeling as world heavyweight champion.

The greatest boxers of all time

Joe Louis

No one has been the uninterrupted heavyweight world champion for as long as he is. From 1937 to 1950 the "brown bomber" managed 26 successful title defenses, then it was defeated by Ezzard Charles on points. Louis is a symbolic figure in the struggle of the US black people for equality. After his boxing career, he crashes and has financial and drug problems. In 1981 Louis dies impoverished.

The greatest boxers of all time

Evander Holyfield

Evander Holyfield is the only boxer to become world heavyweight champion four times in his career. He also achieved fame in 1997 in a painful way: Mike Tyson bites off part of his ear. Holyfield, known as "The Real Deal", will continue boxing until May 2011. He wins the last fight and at the age of 48 resigns as world champion of the unofficial association WBF.

The greatest boxers of all time

Sugar Ray Leonard

He is considered one of the best and most elegant boxers of all time. Ray Charles Leonard, who changes his name based on boxer Sugar Ray Robinson, won world championships in five weight classes between 1979 and 1988. Leonard makes 40 fights and wins 36 of them. He conceded two of his three defeats in his failed comebacks in 1991 and 1997.

The greatest boxers of all time

Rocky Marciano

Everyone is emulating his record: Rocky Marciano ends his career after 49 wins in 49 fights (including 43 knockout victories) as the first undefeated heavyweight boxing world champion. From 1952 to 1956 he held the world title, which he successfully defended six times. Marciano is killed in a plane crash the day before his 46th birthday.

The greatest boxers of all time

Wladimir and Vitali Klitschko

The two Ukrainians who compete for the German Universum boxing stable are the most successful brothers in boxing. Vitali (r.), The elder, nickname "Dr. Eisenfaust", wins the world championship titles of the associations WBO (1999) and WBC (2004). His brother Wladimir (left), known as "Dr. Steelhammer", even holds four world championship belts after his victory against David Haye in 2011 - those of the IBF, IBO, WBA and WBO associations.

The greatest boxers of all time

Regina Halmich

As a child she started judo, switched to karate and kickboxing and eventually became the most successful female boxer of all time: Regina Halmich boxed her way to the flyweight championship in 1995 and held her title until 2007. After winning points in the last fight, she became the undefeated world champion the WIBF.

Author: Andreas Sten-Ziemons