Is YouTube the best source of education
Many teens use YouTube as a source of education
pte20190604024 Media / Communication, Education / Career
Video platform is one of their key digital media for 86 percent of school and vocational school students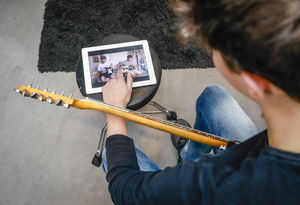 Many use YouTube to learn guitar (Photo: rat-kulturelle-bildung.de)
Essen (pte024 / 04.06.2019 / 11:30) - Video platforms like YouTube are playing a role in learning for more and more young people. The Google subsidiary YouTube, for example, is one of their key digital media, used by 86 percent of school and vocational school students between the ages of twelve and 19, as the Council for Cultural Education http://rat-kulturelle-bildung.de in the study "Youth / YouTube / Kulturelle Bildung. Horizon 2019 ", for which 818 teens across Germany were surveyed.
More YouTube in class
According to the analysis, almost half of the students who use YouTube use explanatory videos for school learning, for example for homework or exams, but also for artistic subjects such as music, art, theater or for groups such as choirs or the school band. 60 percent of the surveyed YouTube users would therefore like to have a critical examination of YouTube videos in the classroom.
"You shouldn't ignore this medium. YouTube is not primarily an educational medium, but it has actually become another important learning and educational medium that affects and changes the educational landscape as a whole. The forms of exercise for students and thus the requirements change of teaching as a whole ", says Eckart Liebau, Chairman of the Expert Council.
For professionals, the increased use of YouTube also results in practical instructions for educational institutions. "If you consciously use the medium at the school, you can structure lessons differently and in this way find more space for individual questions and for reflection in the classroom. And you can be encouraged to produce your own educational audiovisual media," adds Liebau.
Reflection and classification are important
This view is reflected in the survey. 52 percent of YouTube users would like more support from the school in creating videos (film / editing / lighting). 56 percent believe that YouTube will become more important in schools in the future. "The young people interviewed are very clear about the strengths, but also about the structural limits of mass media communication. The findings appeal to the school's own potential for joint reflection and reflection in a cross-generational context," says Benjamin Jörissen, council member and chair holder of education at the Friedrich-Alexander University Erlangen-Nuremberg.
Further results show that, according to their own assessment, the young people are not only guided by the suggestions from YouTube (36 percent do this), but that 53 percent start with a targeted search on a specific topic. When choosing videos, 91 percent of them rely on recommendations from friends, 65 percent on influencers, and 44 percent on tips from family; for tips from teachers it is 30 percent.
PDF download "Youth / YouTube / Cultural Education. Horizon 2019": http://bit.ly/2HVUETP
(End)