What are the uses of timing belts
The importance of the toothed belt in vehicle and mechanical engineering
from kfztech.de
Timing belts are one of the most important components in vehicle and mechanical engineering today. They belong to the genus of drive belts. What sets them apart is that their form allows them to work with toothed belt pulleys. This is in contrast to V-belts or flat belts, which lack this feature.
Another advantage of toothed belts is that no slippage can occur. Thanks to the toothing, the toothed belts can therefore also be used to control components.
Toothed belts are used in tool and machine construction wherever the power transmission of rotating parts has to be stable and free of play. Classic areas of application are, for example, linear drives for printers, robots or packaging machines. However, timing belts are also generally used for positioning systems and servomotors. There it depends on a synchronous transmission of the power.
Timing belts are usually made of polyurethane, nitrile or neoprene. The latter is also called chloroprene in technical jargon. This means a very stable synthetic rubber that is resistant to weathering and embrittlement. Polyurethanes (PUR) are usually plastics that offer the option of being flexibly modified in terms of their properties. The mechanical properties of toothed belts for mechanical engineering and automobiles are usually also optimized. This is done by adding a tension cord made of steel, fiberglass, aramid or polyester.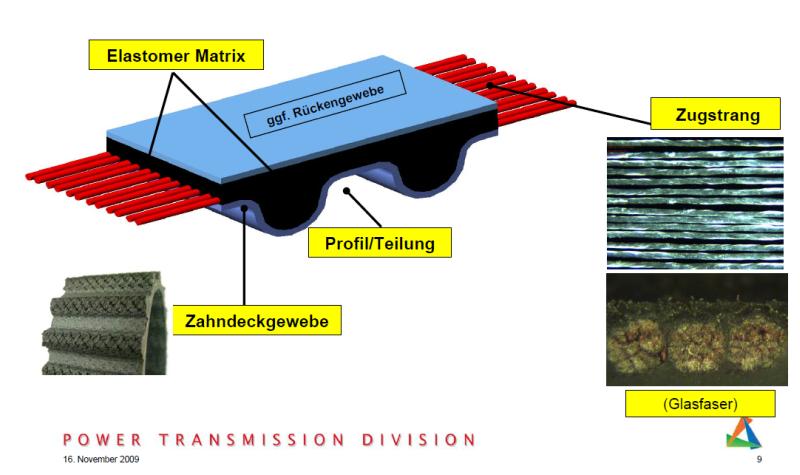 Belt manufacturer Gates' preferred material for timing belts in most new engines is a highly saturated nitrile (HSN). - Image: Gates
What makes timing belts so special?
One of the most important factors in why timing belts are so important is the combination of the properties of a chain and a flat belt. The toothing enables the belt to run positively into the also toothed pulleys. The advantage of this is that toothed belts can be used to transmit large belt forces. With these, the V-belt or flat belt would simply slip through. Toothed belts can also be used in adjusting drives. Here, the toothing prevents the drive wheel and the driven wheel from rotating with respect to one another.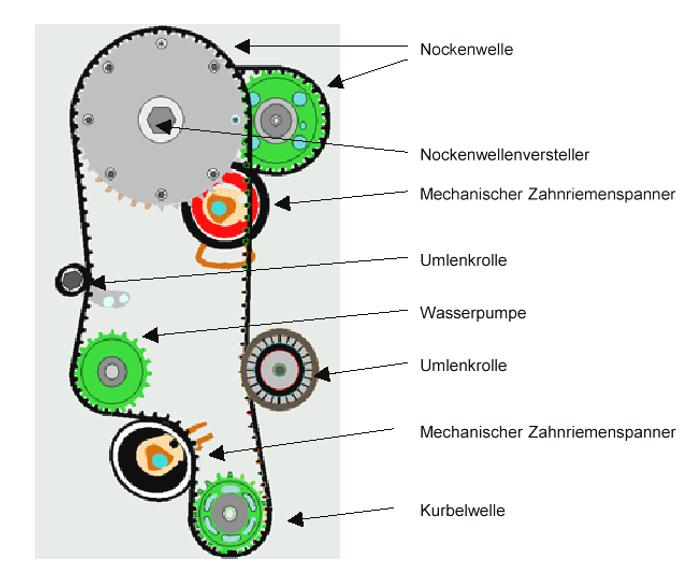 The intake and exhaust camshafts are driven by two toothed belts. - Image: LUK
Nowadays, timing belts are typically used as an alternative to timing chains. They are particularly suitable for driving camshafts in four-stroke engines. In this context, timing belts have some very decisive advantages over timing chains:
They are quieter. When working with machines on a daily basis that takes several hours, a constantly loud noise can quickly become a physical and psychological burden for the worker.

With a low load, timing belts have a long life expectancy. This is essential, especially against an economic background, as some costs can be saved through replacement and maintenance.

Due to the lighter material, toothed belts have a lower mass, which in turn enables higher speeds.

Since they are attached to the outside of an engine compartment, they can be replaced relatively easily or checked for damage.

The timing belts are self-lubricating and therefore do not require any lubrication maintenance.

Due to the nature of the material, a much narrower wrap angle is possible. This means that the gears can be significantly smaller than with a timing chain.

Timing belts are also financially profitable, if only because of the cheaper material compared to metallic timing chains. And the chain tensioners, which are mostly subject to oil pressure and which can be costly in some cases, are also superfluous when using toothed belts.

During the service life of a toothed belt, there is almost no elongation of the toothed belt. This enables very precise control and handling of the belts.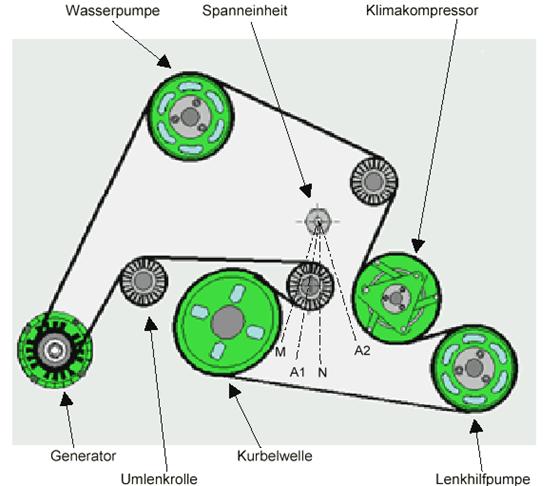 Different tensioner positions M: belt assembly, A1: beginning of the working area, N: nominal position, A2: end of the working area - picture: LUK
Possible causes of failure in the toothed belt drive
However, modern, highly developed engines work with higher temperatures and also higher speeds. In order to save space in the engine compartment, the diameters of the disks are chosen to be smaller. All of this creates tougher operating conditions, which increases the stress on the belt and its components. Improper assembly, cheap replacement belts, the ingress of water, oil or foreign bodies or exceeding the replacement interval can reduce the service life of the timing belt, as LUK knows.
Belt tension too high or too low

Dirt particles in the belt drive

Edge wear on the belt

Wear of the tooth flanks on the belt

Sealing squeaking due to the dry sealing lip of the bearing (service life exceeded!)

impermissible reduction in bearing clearance due to deformation of the inner ring on the bearing (incorrect tightening torque!)

The pulleys are damaged

Grease service life of the bearing exceeded
| | |
| --- | --- |
| Worn edges and webs possibly due to excessive pre-tension - Image: LUK | Broken teeth due to presumably too low a preload - Image: LUK |
Toothed belt replacement notes
Changing the timing belt belongs in the hands of a specialist who also has the right technical documentation and tools. If you still want to make the change yourself, you should definitely follow the following instructions from Gates:
Use only the correct belt

Never kink, twist or bend the timing belt over a radius that is too small, as this could damage the tension cords.

Always follow the workshop instructions

Use correct assembly tools.

do not install a used toothed belt

Always swap new deflection and tensioning pulleys with the belt

As a preventive measure, change the water pump at the same time (note: kfztech.de)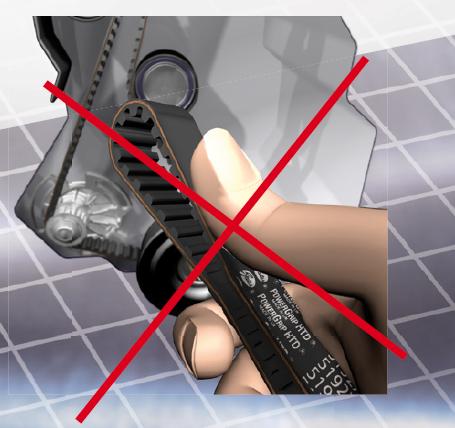 Toothed ribs must not be kinked, bent or twisted too much - Image: Gates
About the assembly of the elastic V-ribbed rim
Also read about the most common engine failures