Should Delhi be renamed Dilli
The correspondents in New Delhi
Stories from the urban jungle of the Indian capital Delhi - fascinating and terrifying at the same time. Noise, smog and unmanageable traffic chaos and at the same time green parks, colorful festivals and a fragrant kitchen. Right in the middle of it all are our correspondents from the ARD South Asia studio.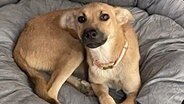 Everyone follows
Corona over and over again
There is still hardly any other topic in the reporting area, both personally and professionally, the violent corona infections determine the everyday life of Peter and Silke in New Delhi. 25 min
From peak to peak
Numbers structure Silke and Peter's week in New Delhi: high levels of new corona infections or corona deaths. The country is firmly gripped by the pandemic. 25 min
There is only oxygen in the air
New Delhi is running out of air, write many Indian media. In fact, there is a lack of medical oxygen in every corner of the city, say Silke and Peter. 20 min
Deja-vu: In the middle of lockdown
New Delhi is cordoned off - total curfew. Almost every third person tested in New Delhi is positive. Peter and Silke are now stuck in lockdown again. 25 min
Corona worries in New Delhi
The corona pandemic is also the dominant topic in India. Peter and Sybille wonder how they can compare the situation with Germany. 23 min
Hello & Goodbye
Delhi can be a hot spot. Bernd Musch-Borowska says goodbye as ARD correspondent for South Asia and hands over to his successor Peter Hornung. 23 min
Eyes and ears in cashmere
While Bernd Musch-Borowska reports from the home office in Hamburg, our studio employee Anoop Saxena traveled to Kashmir to do research. 24 min
Newcomers to the ARD studio
The TV correspondent Oliver Mayer and Cutter Rouven Schröder exchange their first experiences with the unbelievable India. 21 min
No more patents in the pandemic?
There are patents on all medicines, masks, devices and vaccinations to protect against corona. India is demanding that these patents be lifted in the pandemic. 25 min
Between high treason and freedom of expression
An FFF climate activist has been arrested in India for calling for a protest. The top topic in India and also in the conversation of the correspondents. 24 min
Afghanistan's very uncertain future
Silke and Sibylle talk about decisions that will be made this week on Afghanistan and that will determine the future. India is meanwhile corona-loose. 24 min
Welcome Oliver
There is a change of correspondents every five years, also in New Delhi. So now Oliver is in the studio for Peter. The 'new one' still bears the name of the 'old one' for a while. 26 min
Corona contained
Infections are falling rapidly in India. Sibylle and Silke explain the reasons for this and why the Indian government now considers the pandemic to be contained. 27 min
The curse of the series
The rain in southern India has subsided, but a heated debate about the new series "Tandav" has ignited in India, with reports and death threats. 25 min
Rainy vacation
Super vacation! Sick, rain and slush ... but perfect days to watch good series from South Asia. Peter and Silke give their best tips. 25 min
The Correspondents - Out of Delhi
Peter is back in gray Germany, Silke in the wet south of India. In Auroville. It is in this small place that the new humanity is to be founded. 25 min
Farewell to Peter
The times of the correspondents of the ARD are always limited to a few years. Then it's time to say goodbye. This time for Peter Gerhardt: 23 min
The fatherland is closed
Hundreds of thousands of farmers stand at the gates of Delhi and demand that laws be overturned. Despite the fair atmosphere, it's a matter of life or death. 24 min
Taj Mahal and Love Jihad
Silke still managed to make a detour to the Taj Mahal love palace. In India, unfortunately, the signs point to little love between religions. 25 min
Crimes near the palace of love
Silke is on the way to research a brutal murder. With Peter she discusses the shallows of the traditional caste system that lie behind it. 25 min
Thick air and Delhi belly
The podcast is canceled this week, Peter is in bed with Delhi-belly. Hopefully he'll be fit again by next week. Until then! 4 min
Pride station in Delhi
To give transgender people more recognition, an entire subway station in Delhi has now been renamed "Pride Station". Silke and Peter in rainbow fever. 21 min
Dirt and corona
Donald Trump called India dirty. The Indians are angry about it. Silke and Peter know that the air in New Delhi is particularly dirty at the moment. 22 min
The Wild East - Episode 2
There are soon elections in the state of Bihar. So many suspected criminals stand for election that Peter and Silke are just amazed. 23 min
Indian Idlis - Hui or ugh?
A British professor finds Indian rice cakes boring and has caused a shit storm. Silke and Peter have their own opinion about it. 22 min
Back in Delhi
After a long break, Silke and Peter finally see each other again in Delhi. But only through glass. Silke has to stay in home quarantine for 14 days. The stamp on the forearm reminds of this. 23 min
Studio Delhi is taking a short break
Silke flew to her family in Germany. Bernd reports from the home office in Hamburg. The podcast is taking a few weeks off due to corona. 2 min
Bureaucratic absurdistan
Foreign journalists are allowed to travel to and from India again. So Silke is planning a vacation and the podcast goes into the summer break. 24 min
Independence Day dragons
In mid-August, many countries in South Asia cannot get out of the celebration: The people cheer for the independence of their countries - and many fly kites. 25 min
About smugglers' cats and the Taliban
Not only the reporting area, but also the range of topics in our ARD South Asia studio. Silke and Peter take a look behind the scenes. 20 min
Deadly alcohol
In the past few weeks, at least 100 people in India have died from adulterated alcohol. India and alcohol, a difficult subject, think Silke and Peter. 22 min
New in adventure land
The subway has not been running in New Delhi for months, and the buses can only take a few people. So Silke is now on the scooter. 27 min
Wedding virtual
A colleague in the ARD South Asia studio got married. Big fat Indian Wedding? Unfortunately impossible in times of Corona. Peter and Silke took part via video conference. 21 min
Something's brewing
The monsoon has arrived in the north of India, Peter and Silke sweat in the humid atmosphere and hope for rain. Corona of course remains a problem. 22 min
Evacuation from Delhi
Bernd used one of the evacuation flights, flew from Delhi to Germany and talks to Silke, who stayed in Delhi, about the travel experiences. 25 min
Hotspot: New Delhi
The corona numbers are increasing, the chance of a hospital bed is decreasing and Bernd has decided to leave the country. Silke wants to hold out longer in the hotspot. 23 min
Corona in the neighborhood
Bernd now has a containment zone with acute corona cases very close to his house and talks to Silke about the increasing risk of infection. 25 min
The year of the plagues in India
Corona, cyclone, earthquake and now grasshoppers. The very gloomy situation in India is also affecting Silke and Bernd at the moment. 25 min
Heat wave, half-truths and mail from the listener
45 degrees and heat alarm in northern India. Silke and Peter are troubled by the high temperatures. And the corona discussion is also quite heated on the subcontinent. 22 min